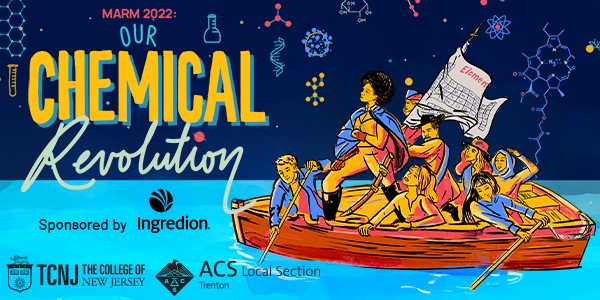 Middle Atlantic Regional Meeting
June 1 - 4 | Ewing, NJ
Submit an Abstract - Deadline is March 7
Located in the heart of the birthplace of America, the Trenton Local Section of the American Chemical Society and The College of New Jersey are excited to host the Middle Atlantic Regional Meeting, June 1–4, sponsored by Ingredion, Inc.
Abstracts are now being accepted for the in-person event.
Submit your research for a chance to present. MARM 2022 will feature engaging and inspirational programming that will provide participants with new learning and networking opportunities.
We want to celebrate you and your professional work in the chemical enterprise! Not only do we want your technical programming, but we also want to give space for our community to describe our diverse backgrounds, career paths, and the ways we are working towards DEIR!
Submit an abstract to the oral session, Infinite Diversity in Infinite Combinations.
Local sections leaders,
submit a poster for a special networking session on your local section activities
, and let's learn from each other!
Visit the website to find a list of the programming divisions and planned symposia open for submissions.
The deadline to submit an abstract is Monday, March 7.
Sponsorship Opportunities
Industry leaders are invited to partner in this exciting endeavor as a meeting sponsor.
New this year are sponsorship levels that may offer additional opportunities to align with your specific corporate philanthropy goals: A Diversity, Equity, Inclusion, and Respect Sponsorship and two sponsorship levels that provide student participation: the 10-Student Sponsorship and the Two-Student Sponsorship.
The deadline to submit your sponsorship applications is March 15.
Call for Award Nominations
The ACS prides itself on honoring the great people among us. From achievements made by those in a lifelong career of chemical research, to those who pass on their knowledge and understanding to the next generations, the ACS recognizes outstanding chemists to thank them for their devoted service to our field.
Stanley C. Israel Regional Award for Advancing Diversity in the Chemical Sciences
recognizes individuals and/or institutions who have advanced diversity in the chemical sciences and significantly stimulated or fostered activities that promote inclusiveness within the region. The ACS Committee on Minority Affairs sponsors this award.
Deadline: March 1
ACS Division of Chemical Education Middle Atlantic Region Award for Excellence in High School Teaching
recognizes, encourages, and stimulates outstanding high school chemistry teachers in the Middle Atlantic Region.
Deadline: March 9
E. Ann Nalley Middle Atlantic Regional Award for Volunteer Service to the American Chemical Society
recognizes the volunteer efforts of individuals who have served the American Chemical Society, contributing significantly to the goals and objectives of the Society through their regional activities.
Deadline: March 9
E. Emmet Reid Award in Chemistry Teaching at Small Colleges in the ACS Middle Atlantic Region
celebrates outstanding achievements in teaching chemical sciences at small colleges within the Middle Atlantic Region.
Deadline: March: 9
Stay on the TCNJ campus to maximize your engagement or take advantage of special room block rates at one of our partnering hotels. There are plenty of options on where to stay for MARM attendees.
Visit the website to find more information about campus housing options or utilize the reservation links for local hotels on the website to ensure you are supporting this meeting.
MARM 2022 will be a mask and vaccination-required event for all attendees, exhibitors, and vendors.
All individuals will need to be fully vaccinated by May 18, 2022
, 14 days before the start of the conference,
and will be required to upload their proof of vaccination through the ACS registration system.